High-end Industrial Package Machine ZAB8560
– Fit For Mould Pulp 3C Products Package
The ZAB8560 High-end Industrial Package Machine is the cost-effective star in the packaging machinery industry. This machine is known for its low investment and high output, ensuring you do more with less. ZAB8560 solves the needs of various industries such as 3c electronics, big consumption, big health, medical industry consumables, biotechnology, cosmetics, daily chemicals and other related packaging materials.
With the ZAB8560, you can finish hot pressing and forming efficiently on one machine without compromising your product quality. This feature can significantly reduce production time and increase output.
Flexible and adaptable, the ZAB8560 can easily handle a wide range of products, especially those with demanding quality requirements. Whether you need to pack small items or large items, you can customize a machine to meet your specific needs. So you can maintain high quality standards and increase customer satisfaction.
Furthermore, the ZAB8560 is designed to meet high operating requirements while maintaining low power consumption. With its advanced technology, you can easily control temperature, pressure and molding speed to produce the best results without wasting energy. The machine's low energy consumption means reduced utility bills and carbon footprint, making it an environmentally friendly choice.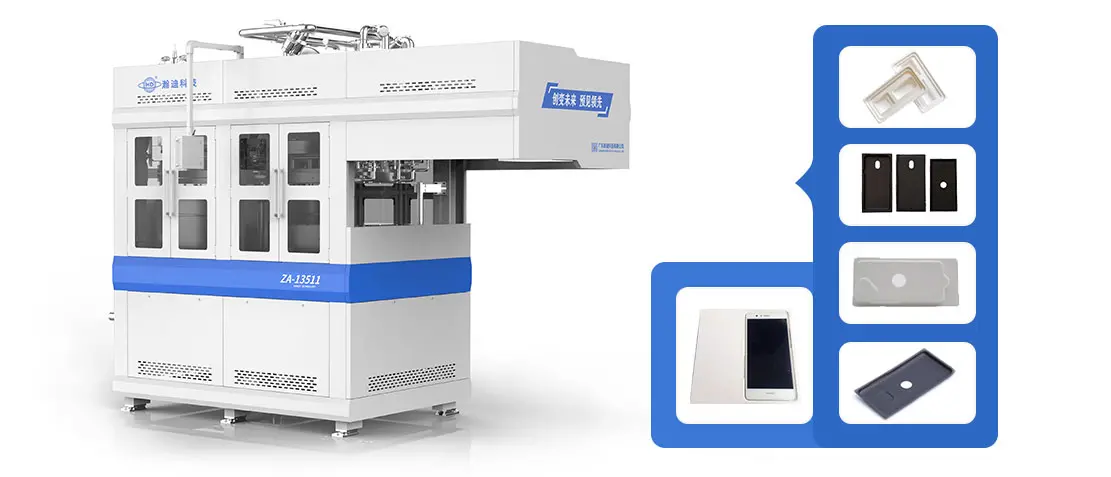 Higher output , less consumption, high-end solution, perfect product quality


Heating Consumption Less by


Daily Output of Ф90mm lid
Commonly Used Raw Material
Primary Pulp Board from the following plants
The commercial primary pulp board for producing premium industrial pulp package is usually the chemical pulp or chlorine-free ECF pulp ,can be purchased from paper making manufacture.A combination of sugarcane ,bamboo and coniferous wood fiber pulp are the raw material applied more for the excellent performace of the pulp tray in replacing plastic tray.

MACHINE SPECIFICATIONS
ZAB8560 High-end industrial package machine

1

Outer dimension (L*W*H)

3600mm*1600mm*3000mm

2

Platen size

850mm*610mm

3

Forming method

reciprocating

4

Pulp feeding style

accurate quantitative pulp feeding (external overflow style)

5

Heating method

electric/thermal oil heating

6

Product transfer method

transfer by mold

7

Forming pressure

8T

8

Hot pressing pressure

30T

9

Machine drive mode

servo + lead screw & hydraulic system

10

Control system

PLC+ touch screen

11

Drying method

dry in-mold

12

Capacity

200-500KG/22H

13

Cycle time

32-120 seconds/drop (depends on the product)

14

Max. product height

100mm
ONE-STOP SOLUTION ,TURNKEY PROJECT