Finery Tableware Machine ZBC1110
– Fit For Disposable Pulp Molding Cultery/Tray
The ZBC1110 Finery tableware machine – the perfect solution for flexible, precise and stable production operations to produce diverse tableware. This cutting-edge automated equipment is designed to help you reduce costs and maximize production efficiency, while providing the highest quality cutlery on the market. With its high capacity, the ZBC1110 can produce a variety of cutlery products, including paper knives, bagasse spoons, bagasse forks, bagasse knives, milk powder spoons, chocolate trays and Chinese soup spoons. It offers a maximum product height of 100mm, meaning you can easily create taller, more complex designs. One of the key advantages of the ZBC1110 is its smart robot, which intelligently connects various processes to streamline your production operations. This helps eliminate human error, reduces downtime and optimizes your production line to deliver consistent and reliable results. Another advantage of this automated equipment is its low consumption, which allows you to save production costs while maintaining high quality standards. Whether you are a small business owner or a large corporation, having the ZBC1110 can help you stay competitive in today's market.For example, if you produce pulp molded spoons, the ZBC1110 is the perfect choice. These spoons are water and oil resistant. Plus, they're durable, strong, and rigid enough to withstand the rigors of everyday use. With the ZBC1110, you can make over 3,000 pieces per day, making it a cost-effective choice for your business.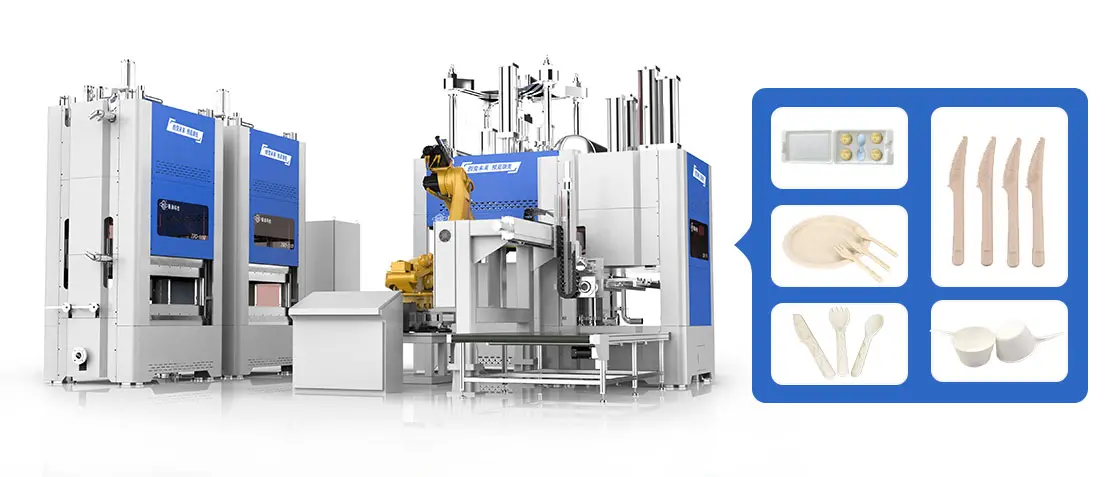 Advantages of Hanson Technology
Higher output , less consumption, wide application, perfect product quality




Commonly Used Raw Material
Primary Pulp Board from the following plants
The commercial primary pulp board for producing disposable tableware is usually chemical pulp or chlorine-free ECF pulp ,can be purchased from paper making manufacture. One-year plant fiber is the proven more proper raw material for pulp molded tableware production for the fiber length is shorter,like sugarcane bagasse fiber,bamboo fiber,wheat straw fiber,reed straw fiber or some offcut of office paper.Wood fiber or bamboo fiber would be added by certain ratio for producing some products of complex structure or deeper products.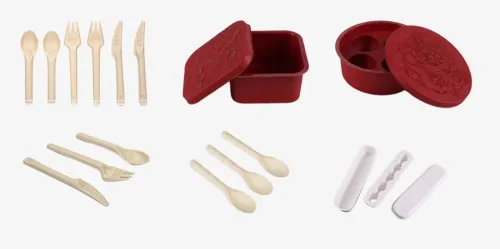 Parameter
ZBC1110 Finery tableware machine

1

Outer dimension (L*W*H)

7500mm*6500mm*4800mm

2

Platen size

1100mm*1000mm

3

Forming method

reciprocating

4

Pulp feeding style

accurate quantitative pulp feeding (external overflow style)

5

Heating method

electric/thermal oil heating

6

Product transfer method

transfer by robot

7

Forming pressure

66T

8

Hot pressing pressure

120T

9

Trimming pressure

66T

10

Machine drive mode

servo + lead screw & robot

11

Control system

PLC+ touch screen

12

Drying method

dry in-mold

13

Capacity

1000-1400KG/22H

14

Cycle time

18-40 seconds/drop (depends on the product)

15

Max. product height

100mm
ONE-STOP SOLUTION ,TURNKEY PROJECT