High-end Industrial Package Machine ZAK8585
-Fit For Compostable Pulp Cosmetic & Skincare Package
The ZAK8585 High-end Industrial Package Machine perfectly solves the users who pursue high precision, stability and all-round quality.
ZAK8585 can process sugarcane bagasse, straw and other plant materials into the proposed structural shape. With specific moulds, products can be made easily, making this machine ideal for those eco-friendly, functional products.
In addition to its molding capabilities, the ZAK8585 also has a small footprint, making it ideal for users with limited space. Its quick mold change capability ensures that no time is wasted, while low draft angle production ensures the highest quality environmentally friendly molded fiber packaging.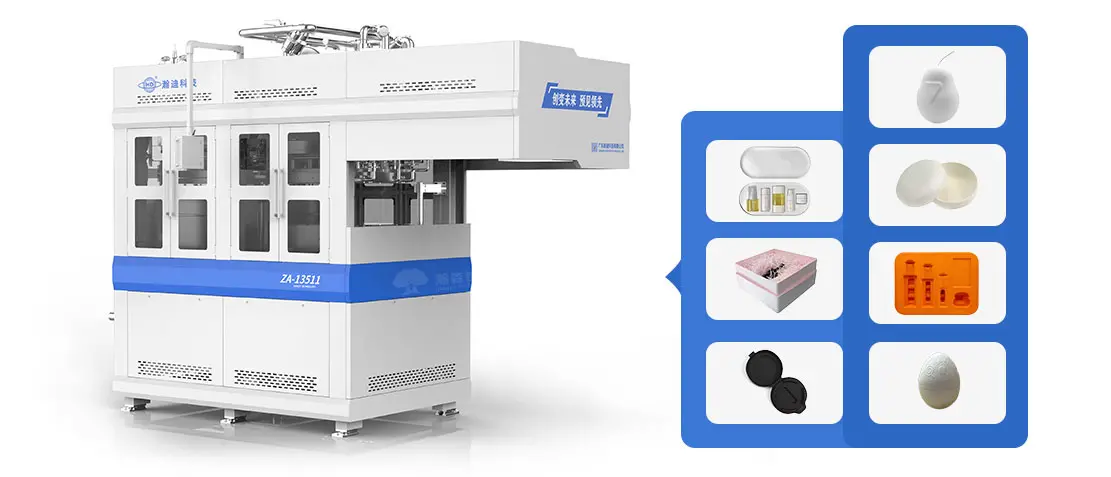 Higher output , less consumption, high-end solution, perfect product quality


Heating Consumption Less by


Daily Output of Ф90mm lid
Commonly Used Raw Material
Primary Pulp Board from the following plants
The commercial primary pulp board for producing disposable tableware is usually chemical pulp or chlorine-free ECF pulp ,can be purchased from paper making manufacture. One-year plant fiber is the proven more proper raw material for pulp molded tableware production for the fiber length is shorter,like sugarcane bagasse fiber,bamboo fiber,wheat straw fiber,reed straw fiber or some offcut of office paper.Wood fiber or bamboo fiber would be added by certain ratio for producing some products of complex structure or deeper products.

MACHINE SPECIFICATIONS
ZAK8585 High-end industrial package machine

1

Outer dimension (L*W*H)

4300mm*1600mm*3000mm

2

Platen size

850mm*850mm

3

Forming method

reciprocating

4

Pulp feeding style

accurate quantitative pulp feeding (external overflow style)

5

Heating method

electric/thermal oil heating

6

Product transfer method

transfer by mold

7

Forming pressure

30T

8

Hot pressing pressure

30T

9

Machine drive mode

servo + lead screw & hydraulic system

10

Control system

PLC+ touch screen

11

Drying method

dry in-mold

12

Capacity

300-600KG/22H

13

Cycle time

32-120 seconds/drop (depends on the product)

14

Max. product height

100mm
ONE-STOP SOLUTION ,TURNKEY PROJECT