Finery Tableware Machine ZAF1110
– Fit For Eco-friendly Bagasse Pulp Plate/Bowl
The ZAF1110 Finery Tableware Machine attracts you with its amazing features and unbelievable capabilities. This machine is designed to produce biodegradable, sustainable tableware and packaging materials, ideal for food and beverage, fruit, cold chain, fresh, gift, medical care etc. One of the key features of our ZAF1110 is its lower mold investment and production cost, which makes it ideal for businesses looking to save on production costs without compromising quality. In addition, this machine is very easy to maintain, and its equipment maintenance is more convenient than ever. This machine also has the feature of continuous forming and hot pressing in one machine, which means it can produce products with a maximum height of 120MM. This versatile machine can produce many types of products including paper ready meals trays, bagasse pulp pizza trays, bagasse cutlery, food tray molded fiber lunch boxes, salad bowls, compartment trays and supermarket fresh trays. Our machine are ideal for businesses looking to differentiate themselves in a competitive market with high quality products that are both eco-friendly and functional. The ZAF1110 is the ultimate corporate solution for those looking to improve overall sustainability while producing a top-of-the-line product that is sure to impress.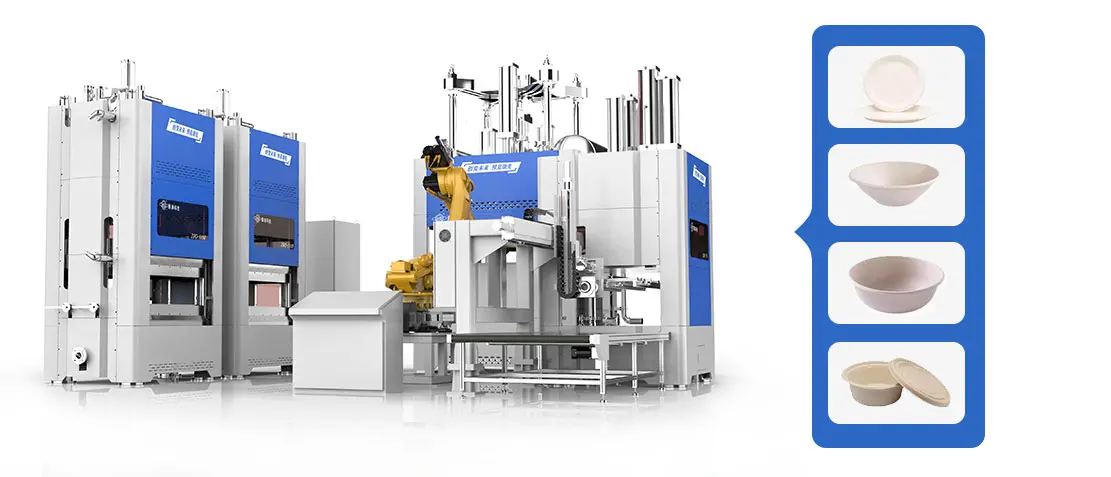 Advantages of Hanson Technology
Higher output , less consumption, wide application, perfect product quality




Commonly Used Raw Material
Primary Pulp Board from the following plants
The commercial primary pulp board for producing disposable tableware is usually chemical pulp or chlorine-free ECF pulp ,can be purchased from paper making manufacture. One-year plant fiber is the proven more proper raw material for pulp molded tableware production for the fiber length is shorter,like sugarcane bagasse fiber,bamboo fiber,wheat straw fiber,reed straw fiber or some offcut of office paper.Wood fiber or bamboo fiber would be added by certain ratio for producing some products of complex structure or deeper products.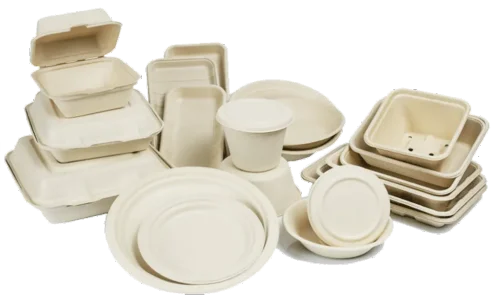 Parameter
ZAF1110 Finery tableware machine

1

Outer dimension (L*W*H)

5900mm*2000mm*3800mm

2

Platen size

1100mm*1000mm

3

Forming method

reciprocating

4

Pulp feeding style

accurate quantitative pulp feeding (external overflow style)

5

Heating method

electric/thermal oil heating

6

Product transfer method

transfer by mold

7

Forming pressure

40T

8

Hot pressing pressure

40T

9

Machine drive mode

servo with gear rack & hydraulic system

10

Control system

PLC+ touch screen

11

Drying method

dry in-mold

12

Capacity

800-1000KG/22H

13

Cycle time

30-60 seconds/drop (depends on the product)

14

Max. product height

80mm
ONE-STOP SOLUTION ,TURNKEY PROJECT