High-end Industrial Package Machine ZA13511
– Fit For Sustainable Anti-leak Hot-drink Lid
The ZA13511 High-end Industrial Package Machine – with its hot pressing single mold, it is capable of producing 90 cup lids in a single run. This top-of-the-line pulp molding machine is designed for businesses in the 3C electronics, big consumption, health, medical industry consumables, biotechnology, cosmetics, daily chemicals and other related packaging materials sectors.
This machine is equipped with advanced features that allow users to easily meet high difficulty, high quality, and high production capacity requirements. Furthermore, the ZA13511 has low energy consumption operational advantage that'll keep your costs low.
Having our pulp molding machine will enable you to produce high-quality packaging materials that meet the high standards of your customers' demands. This machine is tailor-made for businesses that need to produce large volumes of packaging material in a short amount of time.
Built for long-term durability and reliability, this machine is built with high-quality components and materials that stand up to everyday use. With its advanced technology and sophisticated design, the ZA13511 is the perfect solution for businesses that require high-quality packaging products. Whether you need to make paper wine bottle packaging, lipstick trays, mobile phone trays, paper beer can earphone trays, paper cosmetic set packaging, paper mouse trays or sack gamepad trays, this machine can meet your needs.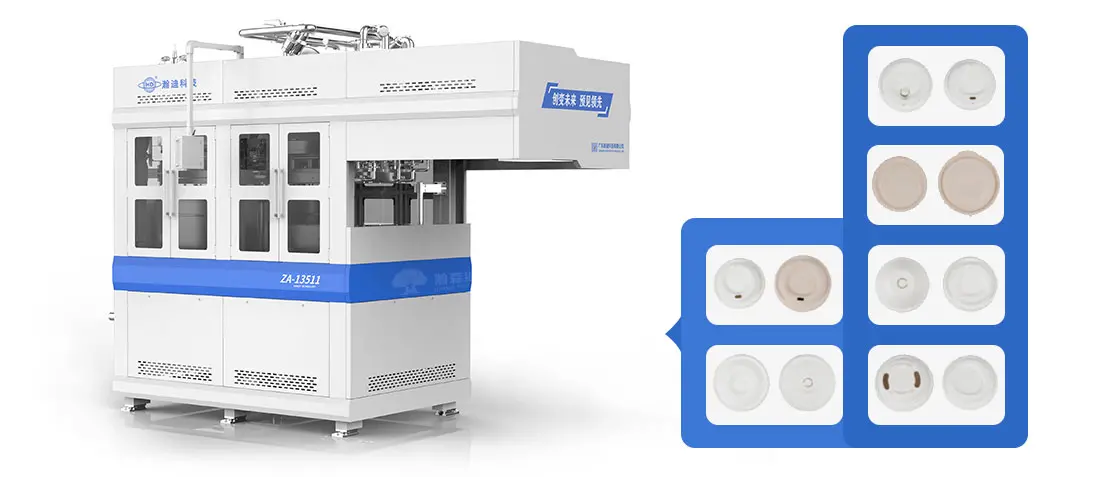 Advantages of Hanson Technology
Higher output , less consumption, high-end solution, perfect product quality


Heating Consumption Less by


Daily Output of Ф90mm lid
Commonly Used Raw Material
Primary Pulp Board from the following plants
The commercial primary pulp board for producing premium industrial pulp package is usually the chemical pulp or chlorine-free ECF pulp ,can be purchased from paper making manufacture.A combination of sugarcane ,bamboo and coniferous wood fiber pulp are the raw material applied more for the excellent performace of the pulp tray in replacing plastic tray.

ONE-STOP SOLUTION ,TURNKEY PROJECT
MACHINE SPECIFICATIONS 
ZA13511 High-end industrial package machine

1

Outer dimension (L*W*H)

6380mm*2570mm*4830mm

2

Platen size

1350mm*1100mm

3

Forming method

reciprocating

4

Pulp feeding style

accurate quantitative pulp feeding (external overflow style)

5

Heating method

electric/thermal oil heating

6

Product transfer method

transfer by mold

7

Forming pressure

30T

8

Hot pressing pressure

80T

9

Machine drive mode

servo + lead screw & hydraulic system

10

Control system

PLC+ touch screen

11

Drying method

dry in-mold

12

Capacity

800-1200KG/22H

13

Cycle time

34-120 seconds/drop (depends on the product)

14

Max. product height

120mm